Ghana Pilots World's First Malaria Vaccine
Worldwide, Malaria kills more than 400,000 people a year with most deaths occurring among young children living in sub-Saharan Africa. Although existing interventions have significantly reduced malaria deaths over the past 15 years, a vaccine could be a significant complementary add-on for malaria control efforts.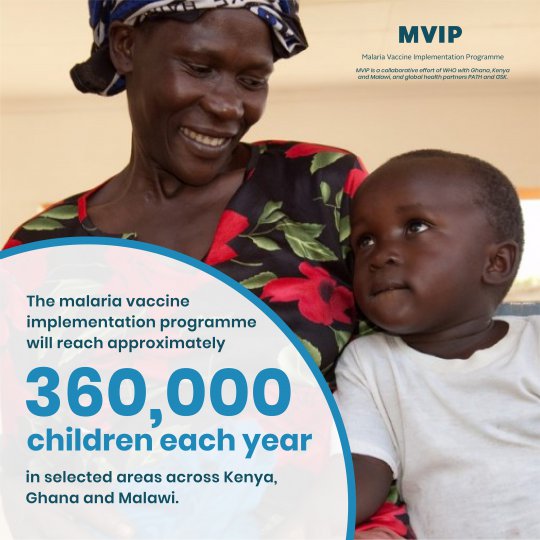 RTS,S/AS01 (RTS,S) is the first malaria vaccine shown to provide partial protection against malaria in young children. It will be the first malaria vaccine provided to young children through national immunization programs in three sub-Saharan African countries—Ghana, Kenya, and Malawi.
These countries will introduce the vaccine in selected areas as part of a large-scale pilot implementation program coordinated by the World Health Organization (WHO), in collaboration with the ministry of health in each country and with international partners, including PATH and GSK, manufacturer of the vaccine
The efficacy of the RTS,S vaccine was established in a Phase 3 clinical trial that concluded in 2014. In the trial, children who received four doses of the vaccine had significantly lower risk of developing malaria, including severe malaria. A stringent regulatory authority—the European Medicines Agency (EMA)—issued a positive scientific opinion on the vaccine in July 2015, concluding that the benefits of the vaccine outweigh the risks. As with other new vaccines, and in line with national regulations, the safety profile for RTS,S will continue to be monitored as the vaccine is introduced more widely
In January 2016, WHO endorsed the joint recommendation of two advisory bodies and recommended pilot implementation of the vaccine in three to five settings in sub-Saharan Africa. In response to that recommendation, a country-led, WHO-coordinated Malaria Vaccine Implementation Programme (MVIP) has been designed to further understand the operational issues in using the vaccine in the context of other malaria interventions. The MVIP will specifically assess the feasibility of administering the required four doses of the vaccine in children, the vaccine's role in reducing childhood deaths and severe malaria, and its safety in the context of routine use. Data and information from the MVIP will inform a WHO policy recommendation on the broader use of the vaccine. RTS,S has been approved for use in the pilot evaluation and Phase 4 studies by the national regulatory authority in each of the three participating countries.

Financing for the MVIP has been mobilized through an unprecedented collaboration among three global health funding bodies: Gavi, the Vaccine Alliance; the Global Fund to Fight AIDS, Tuberculosis and Malaria; and Unitaid. Additionally, WHO, PATH, and GSK are providing in-kind contributions, which include GSK's donation of the vaccine for use in the MVIP. However, additional resources will be needed to bring this vaccine into wide-scale use.
Source: Center for Vaccine Innovation and Access, 2019